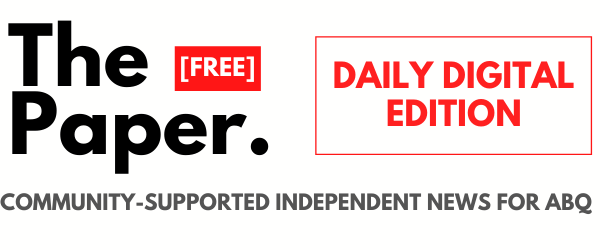 DAILY DIGITAL EDITION | THURSDAY | APRIL 15
SUBSCRIBE | DONATE | CARRY THE PAPER IN MY BUSINESS
Today is April 15th which usually means it's tax day in the good ol' US of A. But this year Uncle Sam (technically Uncle Joe) is giving you an extension.
---
Government extends deadlines for filing taxes, but don't wait long.
---
What about the kids, though? Making news today, New Mexico continues to lead the nation in the race to herd immunity (53% of eligible adults have at least one shot). A small cohort of APS' high school students have received a vaccine and now APS is pushing 20,000 more to get vaccinated so they can attend spring graduation ceremonies.
That name sounds familiar… This week in EatABQ: The Paper's foodie guide to the Duke City, we sat down with Kate Gerwin to get a peek at her new craft cocktail joint coming very, very soon to the old Matanza restaurant spot in Nob Hill. If Gerwin's name sounds familiar, it should. Foodies mourned when she left Corrales' Casa Vieja years ago. Then she popped up alongside Jon Taffer on TV's "Bar Rescue" where she helped distressed bars make a comeback. Oh, between all that, she became the first female world bartending champion. Now she's back in NM with a few new friends to help Nob Hill make a post-COVID comeback and you won't believe what she's planning for the new hot spot on the corner.
Oh, and she's thumbing her nose at the restaurant association who says restaurants can't afford to pay even minimum wage. She's starting all her staff, including dishwashers, at $15/hr. with benefits and profit-sharing.

It's a "hometown hero coming home to save the day" story you need to read and it's our front page today in The Paper.
---
Front Page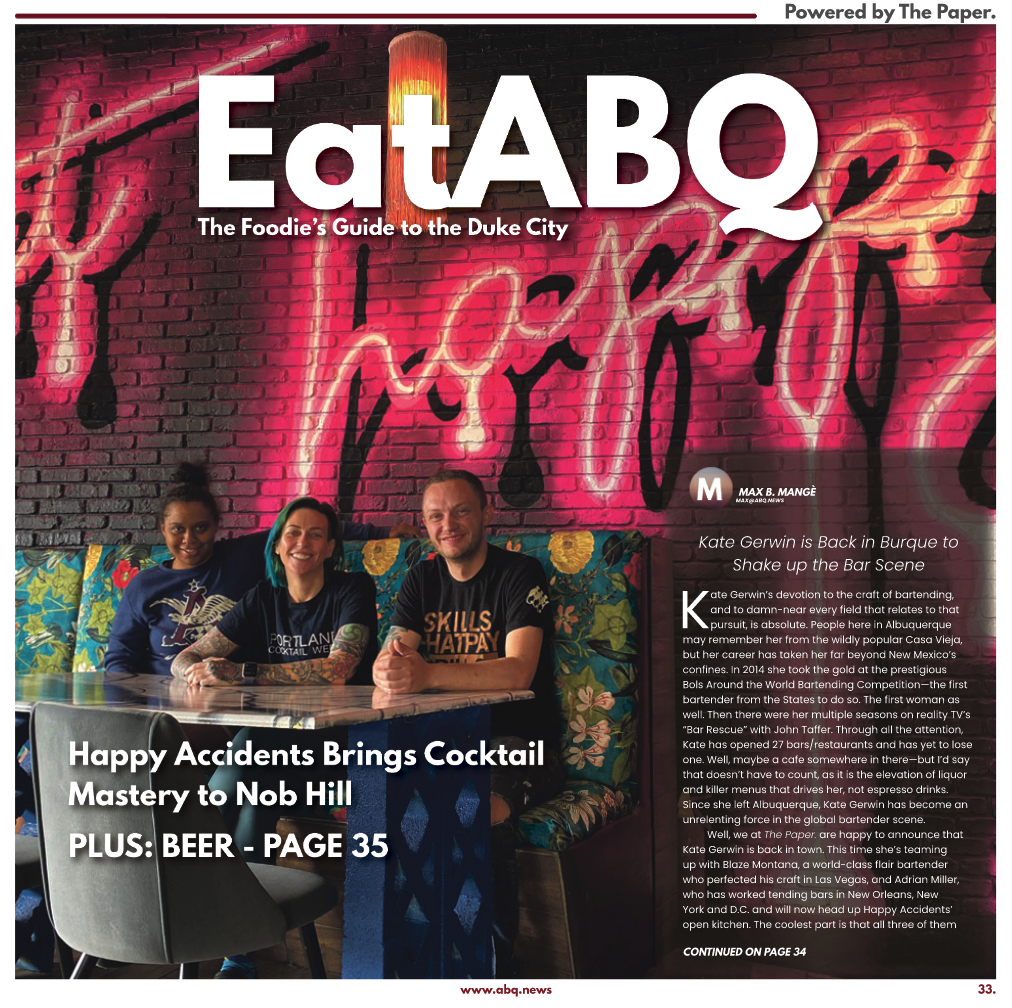 EatABQ
A foodie's guide to ABQ, powered by The Paper.
Kate Gerwin is Back in Burque to Shake up the Bar Scene
by Max B. Mangè
Are you a foodie? Or just a very cool person who wants to know all the latest happenings in the food and drink scene? You should be getting EatABQ news in your email each week. Just sign up right there on the EatABQ homepage.
ABQ
SANTA FE, N.M. (AP) — Albuquerque Public Schools says 50 students have received shots as part of a pilot program to promote vaccines for teenagers. […]
ENVIRONMENT & ENERGY
Governor Michelle Lujan Grisham's clear interest in renewable energy and New Mexico's windy eastern plains have created the perfect place for wind generation potential. For more […]
CANNABIS & ECONOMY
Research into the efficiency of hemp batteries has concluded industrial hemp could be part of the future of battery-powered vehicles. Could hemp batteries pave the […]
At this point policymakers might not be paying much attention to the environmental impacts and energy consumption of the cannabis industry. The environmentally conscious crowd […]
---
Help us hire another local journalist. It's an exciting time for New Mexico as we begin to reopen amidst an explosion of new industries (cannabis, film and space tech, to name a few) and race to renewable energy. Who is doing it right and who is being left behind? We want to tell those stories but we need your help to do it.
Help us reach our goal of securing 100 new monthly supporters of independent local journalism and we can hire our next reporter.
Donate now [$10/mo.] [$25 one-time]
Thank you, Jud, ViAnn, Thomas, Shireen, Sally and William for becoming sustaining members this week!
---