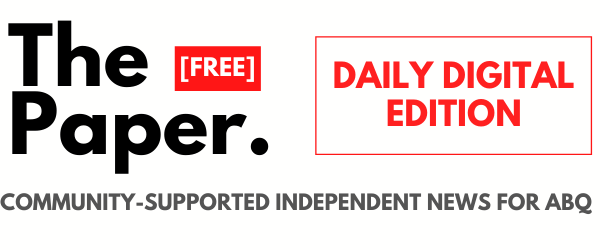 DAILY DIGITAL EDITION | FRIDAY FEBRUARY 11, 2021
SUBSCRIBE | DONATE | CARRY THE PAPER IN MY BUSINESS

Impeachment managers made Otero County Commissioner and Cowboys For Trump founder Couy Griffin Exhibit 1 during yesterday's impeachment trial in the US Senate – and they used reporting from The Paper. to make the case.
That's the first time we know of where New Mexico reporting has been used to help impeach a president. Meanwhile, a federal judge allowed Griffin to get out of jail – if he gives up his guns.
Also in DC, Gov. Lujan Grisham is taking advantage of the chance to travel (she lifted the ban this week). She's headed to DC for a meeting with President Biden. GOP Congresswoman Yvette Herrell is having a hard time getting Biden to return her calls, so Herrell wants MLG to deliver a message to Biden for her.
In Santa Fe, legislators are gearing up for Saturday's first of what will likely be many, many hearings on 5 different plans to legalize cannabis. Learn how you can share your thoughts with legislators here.
But state senators did pass SB10, a repeal of New Mexico's antiquated anti-abortion law. It doesn't matter now, but it might if the conservative majority on the Supreme Court reverses Roe v. Wade. It heads to the House where it is expected to easily pass and be signed by the governor. If you love politics, read the story on the interesting way Democratic senators chose to debate the bill.
Reopening ABQ
We officially made it to yellow this week and restaurants and businesses are wasting no time getting back to work, even if it is still at just 25% inside (75% outside, tho!)
🥳 The Frontier has been serving sweet rolls for 50 years and our Cade Guerrero talked to the team bringing it back for indoor dining just in time.
If you need another incentive to follow the rules and get your shot, the region's largest concert venue announced three big acts now coming to ABQ this summer — tickets on sale now.
With patio service expanding to 75% capacity and warm weather making a comeback, we pulled together a list of our favorite patios near The Paper's Nob Hill office. If beer on the patio isn't your style, try one of ABQ's *FIVE* new food halls you might have missed while we were doing our duty under the red rules.
But, but, but we are still under health orders because we aren't out of the woods yet. More than 2000 public places required a COVID rapid response from the state over the past two weeks. They aren't required to tell you when you shop there so we mapped every single one (that's a lot of data!) so you can check your weekend plans against the list.
---
Don't forget, it's Valentine's Day on Sunday! Need a quick treat for your sweet? We asked our staff to share some of their favorite local spots. Here you go…
By Cade Guererro at Eat ABQ
Take a weekend trip to Valencia County. You'll be glad you did!
From EatABQ
–Marble's new Safeword IPA is a hop-lovers dream.
–Gravity Bound Brewing's Narcissistic Tendencies is ""Something akin to the flavor of a piece of gourmet chocolate cake sensually smothered in raspberry purée, touched with mint pulled directly from the somatic earth."
---
Like The Paper? Support the independent journalists writing it.
Community news requires reader support.
Donate now [$10/mo.] [$25 one-time]
---