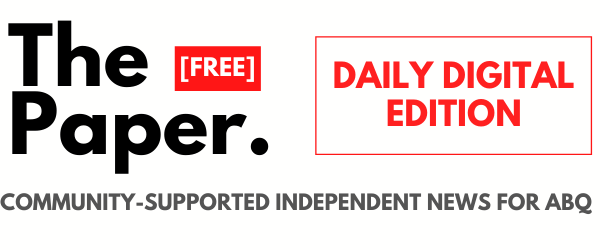 DAILY DIGITAL EDITION | MONDAY | APRIL 5, 2021
SUBSCRIBE | DONATE | CARRY THE PAPER IN MY BUSINESS
President Biden said he wanted states to prioritize educators for vaccines by the end of March and pushed states to return to in-person learning in April. New Mexico juggled vaccine priorities to accommodate and schools are set to re-open today. For those with students in Albuquerque, APS has this checklist for parents and students opting-in to in-person learning.
New Mexico now leads the nation in vaccine distribution and the vaccine is open to anyone 16 and older (sign up now).
Students heading back won't have to worry about taking a heavy coat. This weekend's unseasonably warm weather with highs in ABQ in the mid-80s continues this week. That has us returning to thoughts of climate change and global warming which made this news headline from neighboring Arizona stand out: Water Resources Agency Warns of Less Water in 2022.
It's very similar to headlines echoed by New Mexico water managers last month and makes hints of an "early and robust" monsoon even more tantalizing.
Our climate and environment reporter, Gwynne Ann Unruh, follows New Mexico's climate and water woes for The Paper. This morning on our digital "front page" we take a deeper look at the water crisis and our drought.
In our Monday business section sponsored by Southwest Capital Bank, Muhamed Abdel-Hack visited with one iconic Downtown business that has weathered the ups-and-downs for more than 75 years. It's a preview of this week's print issue all about the return of Downtown.
Thanks for being a daily digital subscriber to The Paper!
Front Page
By Gwynne Ann Unruh
Drought, diversion, contamination and legislative battles are the pandemic plaguing dwindling New Mexico rivers, livestock and wildlife. Water, the lifeblood of everything in its path as it flows, is close […]
By SUSAN MONTOYA BRYAN Associated Press — ALBUQUERQUE, N.M. (AP) — As several states in the American West face intense drought, it's shaping up to be a very difficult year […]
With chile farmers making plans for a summer without any supplemental irrigation allotments, any news of rain is good news. Forecasters with the National Weather Service in Albuquerque say early […]

Business
Presented by Southwest Capital Bank

By Muhamed Abdel-Hack, April 5, 2021
The Men's Hat Store on Route 66 is a popular destination from a bygone era and has weathered every storm during its 75 years in business.