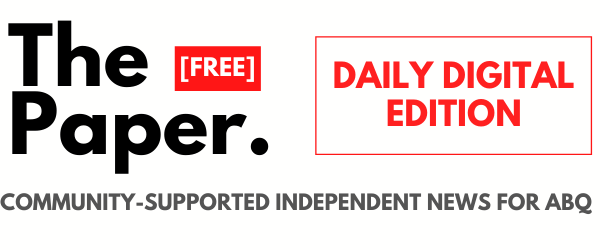 DAILY DIGITAL EDITION | THURSDAY MARCH 11, 2021
SUBSCRIBE | DONATE | CARRY THE PAPER IN MY BUSINESS
"We're doing a great job with it. And it will go away. Just stay calm. It will go away." — Pres. Donald Trump, March 10, 2021
A year ago yesterday, President Trump said COVID would just go away on its own. That, obviously, has not happened. But we are on our way back and in many respects, New Mexico is leading the way. Seriously.
New Mexico now leads the country in the percentage of residents who have received at least one dose and we're not far behind in total vaccination completions either.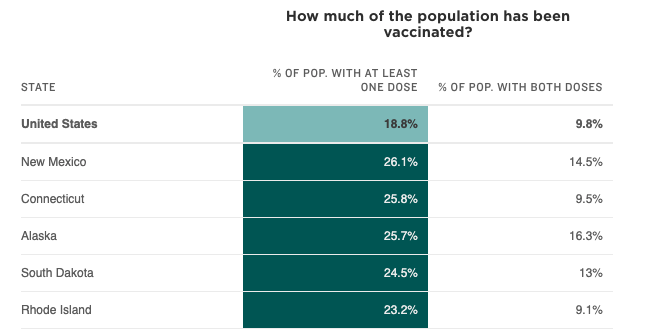 That impressive rate of vaccinations has helped most counties move forward under the red-to-green framework used by the state to determine local health restrictions.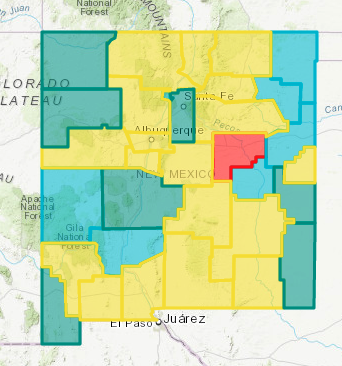 Seven counties are now in the least-restrictive "Turquoise" level and Santa Fe County moved to green.
What will it take to get Bernalillo County to green? Our test positivity rate is now 2.8% — far below the 5% threshold — but cases per 100,000 residents remains at 12 per 100K. We have to get to 8 or lower and that will likely take more of us getting vaccinated.
Educators in BernCo will be eligible for the vaccine next week and that is good news for schools and our positive case numbers. In other words, we're close to green folks. Hang in there.
Once schools reopen, most counties get to green+ and the legislature is done, expect the governor's office to pivot their media strategy from COVID to regular state operations. They are ready to move forward and so are we.
---
A year later, the country also gets to see what it looks like when Congress does its job. With no Republican help, President Biden and Democrats in both chambers of Congress passed the $1.9T recovery plan this week. Checks could start flowing as early as next week.
Wondering what relief you are eligible for as an individual, worker or business owner? Find that here:
Your stimulus check is tied to your income. Rep. Deb Haaland has this pro tip for taxpayers:

Haaland, by the way, is on track to be confirmed as Interior secretary next week. That sets off a chain of events for a special election to replace her in Congress that culminates in an election sometime in June.
---
Legislature
While you are home waiting on your DOH call and the mailperson to bring your stimulus check, the best TV to watch this week might be the live stream from the legislature. With just 9 days to go patience is running short and legislators do crazy things to move their bills or stop the other guy's. Anything can happen. (If those aren't your thing, Devin O'Leary has these picks for the best in streaming, film and TV this week in The Paper.)
A Senate committee passed both Democrat and Republican cannabis legalization bills on Tuesday. Now it is up to the Senate Judiciary to decide before at least one reaches the Senate floor for final action. Expect that last committee vote as early as Saturday.
Environment
Gwynne Ann Unruh covers the environment for The Paper. She has two great pieces on communities in different parts of the state fighting big industries with big environmental problems. Read on…
By Gwynne Ann Unruh
Like many states, New Mexico's air quality is worsening. The American Lung Association reported in […]
By Gwynne Ann Unruh
Fresh water use by oil and gas has impacted New Mexico's small communities, particularly those […]
Support the independent New Mexico journalists covering news like this. 100% of reader donations go to journalists.
Cannabis
The Paper has the state's only weekly cannabis writer. In addition to following the twists and turns of legalization in the legislature, this study caught his eye.

By Josh Lee. Bad news for anyone who thought vaping cannabis was a healthier alternative to smoking. A […]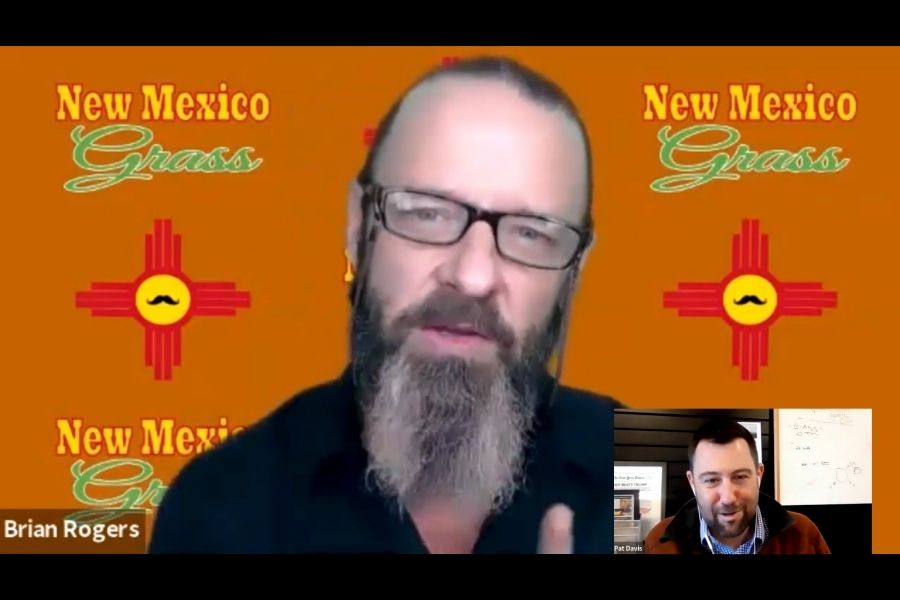 New Mexico's cannabis industry has a new YouTube series, New Mexico Grass. The first edition features our publisher, Pat Davis, who chaired the governor's legalization workgroup last year. A new version features State Rep. Andrea Romero, a co-sponsor of legalization. Watch both here.