SUBSCRIBE | DONATE | CARRY THE PAPER IN MY BUSINESS
A reader recently asked me, "what does it mean that you are 'independent news'."
At The Paper., it means we have the freedom to explore issues and invite new voices to provide a perspective on New Mexico our readers may not have considered before.
Last week alone, we published 48 new stories and columns from independent writers, columnists and news partners. Understandably, you might have missed a few. On Sundays, we try to take a look back at some our the most impactful, fun and most-read stories of the week and also preview the week ahead.
Last week, our "best of" includes an incredibly important (and worrisome) piece from Gwynne Unruh about a worry looming for New Mexico's chile farmers: water.
We also co-published a piece from Capital and Main looking back on how the failure of Wyoming's politicians to prepare for the end of coal left a huge hole in the state's education budget. It's a lesson for New Mexico's political class – and the rest of us.
And, of course, we're returning to some of our favorite pieces from our "Being Black in New Mexico" series. Our regular contributors took a step back and passed the mic to Black journalists, businesses and artists who share a perspective too often overlooked in New Mexico news.
---
Like The Paper? Support the independent journalists writing it.
Help us reach our goal of earning 100 new sustaining (monthly) readers in February.
Donate now [$10/mo.] [$25 one-time]
100% of reader donations go to independent journalists writing in The Paper.
---
Coming up this week: the big battle to confirm Deb Haaland. We're exploring the historic nomination and the big oil opposition to stop it.
Sit back, grab a coffee and let's get started.
Features
By Gwynne Ann Unruh, The Paper.
If La Niña has her way, "zero allotment" is around the corner for the 2021 growing season. That means no river water for chile and that makes for a very bad year in New Mexico. It will get much, much worse if Texas calls up the debt of water New Mexico owes.
---
---
Legislature
More than anything else, how legislators decide to draw lines for Congress and the state legislature will determine who is in control of New Mexico politics for the next decade. Three competing plans are quietly making their way through the session – but can any of them really pass?
New Mexico & The Nation
On stands this week (and online here!): Being Black in New Mexico. Our special edition featuring Black journalists, businesses and artists sharing a perspective too often overlooked in New Mexico news.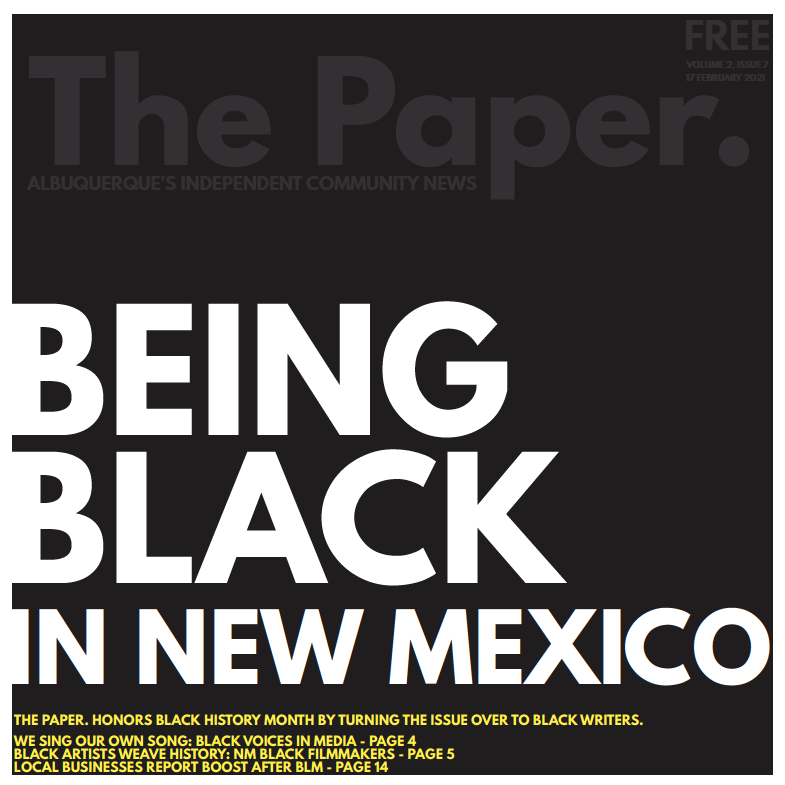 ---
Tell us what you think of The Paper! Want more of this, less of that? Would you want home delivery? Tell us in this 1-minute reader survey.