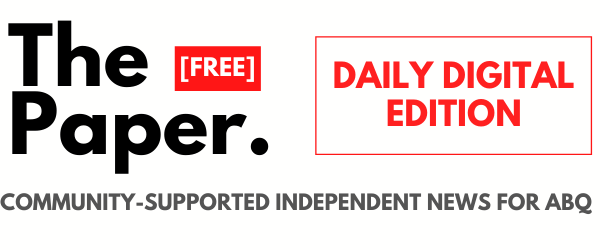 DAILY DIGITAL EDITION | SATURDAY FEBRUARY 13th
SUBSCRIBE | DONATE | CARRY THE PAPER IN MY BUSINESS
It's about to get cold in New Mexico. Like, polar bears are breaking out their earmuffs cold.
So stay home, grab a warm beverage and take in a few things you might have missed from last week.
How you view the issue of nuclear waste probably depends on where in New Mexico you live. For southeast New Mexico's beleaguered oil economy, plans to fill 1,000 acres of desert with nuclear waste storage looks like jobs. For most of our Congressional delegation (and most of the rest of New Mexicans) it looks like an industrial and environmental disaster waiting to happen.
This weekend, we're stopping to take in this longread from our independent news partners at Searchlight NM.
---
Weekend Feature
By Tovah Strong, Searchlight NM
"We are talking about storing over 120,000 metric tons of nuclear waste in an extremely active oil field without a clear picture of the potential hazards," said Land Commissioner Stephanie Garcia Richard
Plan to ship 120,000 metric tons of nuclear waste through New Mexico communities raises big questions for small towns
---
Like The Paper? Support the independent journalists writing it.
Community news requires reader support.
Donate now [$10/mo.] [$25 one-time]
Trending Headlines
LEGISLATURE
"I'm really pissed-off!": Senator has choice words for colleagues who killed his bill
Westside legislator gets a win on plan to create for skilled labor jobs
Seniors may have an easier time getting out of jury duty if new bill passes
Gov's takeaway from meeting with Biden earns her quote-of-the-day
It's not too late to contact legislators!
---
ALBUQUERQUE
The City of Albuquerque wants to be more green and they are asking citizens to help.
---
NEW MEXICO and THE NATION
---