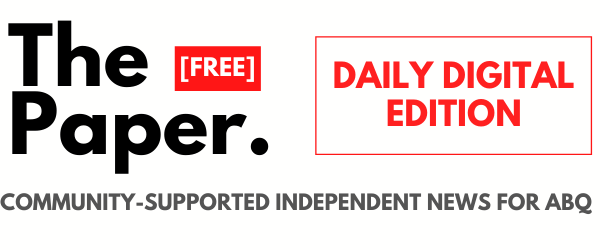 DAILY DIGITAL EDITION | WEDNESDAY MARCH 10, 2021
SUBSCRIBE | DONATE | CARRY THE PAPER IN MY BUSINESS
Hello, dear readers! This is Abby, co-owner of The Paper. It's Wednesday, and that means there's a new issue of The Paper. out on newsstands today. This week we're featuring stories about women that show not only is the future female, the present is too.
March is also Women's History Month! It is said that history is written by the victors. And for better or worse (more often than not, worse), it is. But I would argue that history is also written by the writers! Those who, with everything from a pen to a piano, capture history and immortalize it for the world. In songs, in books and, of course, in newspapers.
This means journalists and others who bring the news to the public, from photographers to designers to editors and owners, have an outsized responsibility to ensure the history they capture is portrayed accurately. History-making and history-changing women is one area in which newspapers have made omissions without so much as a correction to such a degree that they fail… [read more]
Abby Lewis, co-owner, The Paper.
On newsstands today:
Women's History Month Special Issue
It's perfect timing, really. As March is Women's History Month, and as The Paper. takes a closer look at women judges on the bench in New Mexico.
Why now? Well, the truth is, the data doesn't lie. Regardless of politics, progressive or conservative, there is simply not enough gender and racial equity in the courts. Case in point: The U.S. Supreme Court was created in 1789, and of the 111 justices that have served on the highest court, only five of them have been women. Let that sink in. In the history of the court, 106 of 111 Supreme Court Justices have been men.
It's data like that that has paved the way for the Commission on Equity and Justice to become a permanent standing commission of the state's Supreme Court and to take a look at how it can facilitate change. The gender balance in New Mexico's justice system is changing, but it still has a way to go to build a bridge to greater gender and racial equity.
by Tierna Unruh-Enos. Judge Cindy Leos feels like New Mexico's courts are on the precipice of creating something groundbreaking […]
By Carolyn Carlson. Two retired female judges talk about what changes when women are a majority of the court.
We're hiring! The Paper is seeking to hire a full-time general assignment reporter. Experience in news reporting required. Candidates identifying with communities underrepresented in media are encouraged to apply. Inquiries and resumes to editor@abq.news
PROFILES IN BUSINESS
Presented by Southwest Capital Bank
Opinion
By Abby Lewis
It is said that history is written by the victors. And for better or worse […]
News
By Robert Nott, Santa Fe New Mexican
And then there were two. This story also appeared in Santa Fe New Mexican A […]
By Jonathan Sims
Santa Fe Indian Market, run by the Southwestern Association for Indian Arts, is the grand-daddy […]
---
Independent News Requires Community Support. Support the independent local journalists bringing you this week's news. Donate today.