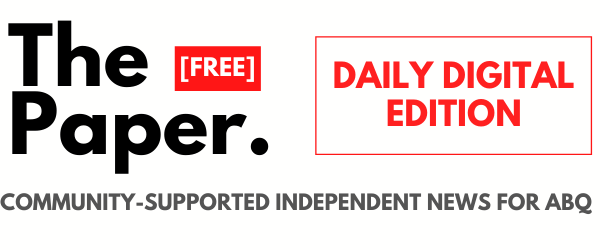 DAILY DIGITAL EDITION | MONDAY | MARCH 22, 2021
SUBSCRIBE | DONATE | CARRY THE PAPER IN MY BUSINESS
After teasing us with beautiful spring weather this past weekend, mother nature is sending us back to winter this week. The National Weather Service says a "vigorous storm" will bring between 1-2″ of snow to the ABQ region Tuesday and Wednesday.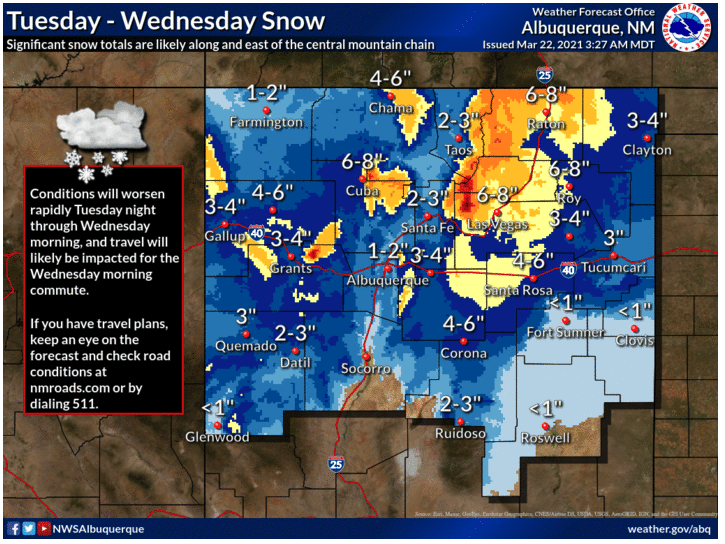 More important for the big picture, it will add another 6-8″ across the northern mountains where it will eventually become our drinking and irrigation water this spring and summer.
In case you missed it, we wrote a few weeks ago that early forecasters are calling for an "early, robust" monsoon starting as early as June. Maybe.
---
Legislative overtime. By mid-week last week, cannabis legalization advocates started to worry that the governor and the newly elected progressive legislators were so happy to have their other priorities finally pass they would wait another year on legalization. But there is no need to worry.
The Paper. was the first to share exclusive video of the governor telling Democratic Party insiders that she would be bringing legislators back in a few weeks to finish that job. Senate Democratic Leader Peter Wirth (D-Santa Fe) was equally enthusiastic in a post-session press conference reminding the public that the new cohort of freshmen senators had run and won on a promise to do so. That's a subtle hint to his mostly older and more skeptical members that this is a priority and needs to be done. Watch for that special session around March 31 (a few days before Good Friday in case the many Catholic legislators need some incentive to move quickly).
This was a big session for Democrats and the governor. Take a look at the priorities that did pass:
Republicans, for their part, put up a good fight opposing every single one of those priorities — and more — but they stumbled out of the gate when newly-minted GOP leader Greg Baca (R-Valencia Co.) quizzed a Black female nominee about her ability to represent New Mexicans outside her "culture." In addition to being horribly offensive and racist, it fed the progressive narrative that the GOP was taking us backward.
In the end, the governor and Democratic leaders had a huge session and they feel emboldened. Add in cannabis legalization and the campaign commercials almost write themselves.
Not everyone is happy, however. Former labor executive and progressive lobbyist Charles Goodmacher sent us this take:
While Democrats in both chambers made enormous progress many issues of greatest concern to the voters, the legislature as a whole completely failed to do what was necessary to diversify revenues sufficiently to position New Mexico in the years ahead. The ongoing worldwide decline of the oil and gas industries will hit New Mexico's hard and won't continue to provide revenues needed to support even basic services Republicans agree with much less those Democrats hope to progress on.

Republican Senator Kernan of Hobbs (who opposes any tax increase) commented: "this would have been a better time to do a really big tax overhaul because in three or four years, we won't be in the same place in regard to revenue."  The Senate Finance action stripping HB291a of all revenue generation was one of the biggest failures of the session, even as it provided much-needed tax aid to our state's low-income and working families.

Charles Goodmacher is a lobbyist for New Mexico Voices for Children, New Mexico Public Health Association, Policy Solutions Institute and others.
Sounds like advocates are already lining up their agenda for the next session.
HEADLINES
COVID-19
By MARIA CHENG and LAURAN NEERGAARD AP Medical Writers — AstraZeneca's COVID-19 vaccine provided strong […]
ALBUQUERQUE, N.M. (AP) — Grocery store employees, home caregivers, farm workers, other essential workers and […]
ALBUQUERQUE, N.M. (AP) — The New Mexico Department of Health is launching an app that […]

New Mexico

By Muhamed Abdel-Hack
Returning film industry boosts local biz in a big way.
---
Community journalism requires community support.
Information is power. That's why we never hide our reporting behind paywalls.
Help us keep The Paper free for community by becoming a sustaining donor.