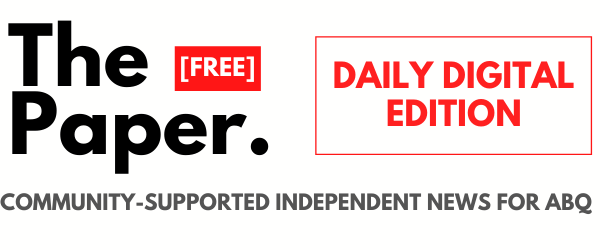 DAILY DIGITAL EDITION | FRIDAY, FEBRUARY 26
SUBSCRIBE | DONATE | CARRY THE PAPER IN MY BUSINESS
Deb Haaland's big week continued yesterday as she was selected to preside as acting Speaker of the House during a portion of the debate in the US House over the Equality Act.
As it happened, Haaland was in the chair when Republicans tried to require the House to pause for a moment of silence to honor Rush Limbaugh. Haaland was having none of that. Watch the clip linked in our story below.
New Mexico's lone Republican in Congress, Yvette Herrell, had a predictably different take.
---
New Mexico Congresswoman Deb Haaland has had quite the week. […]
---
The US House of Representatives passed landmark civil rights protections for LGBTQ+ Americans on Thursday, […]
---
New Mexico's other Congresswoman, Teresa Ledger Fernandez, is also a co-sponsor and voted in support.
Weed on the table. Today and tomorrow are gearing up to be great days to get outside, but legislators won't get much chance to enjoy the sunshine. This weekend, a key senate committee will take up 4 different bills to legalize cannabis and the House could vote on it's own version which passed all committees and awaits scheduling for a final vote.
A House legislative leader contacted by The Paper tells us the House will likely have at least one session this weekend.
New Mexico is #1 for something good! Across town in Santa Fe, officials in the Department of Health are patting themselves on the back.
New Mexico leads the country in the percentage of allocated doses used. That's an odd metric, but an important one for a rural state with generally low measures for health access.
In case you were curious, 19% of Bernalillo County residents now have at least one shot. 12% are fully vaccinated.
News
---
Senate committee to take up 4 other bills on Saturday
Care about cannabis? Use our "contact your legislator" tool in this story to contact your legislators before the big votes.
---
Supporters of the legislation said it will require law enforcement to step up training to […]
A bill extending financial relief opportunities to those hit hardest by the COVID-19 pandemic is […]
Teacher pension contributions: A bill that would require employers to pay more into the retirement fund […]
"In a short time, The Paper. has become a core news source for me. Thanks so much for your in-depth local reporting."
Kristen, ABQ, added this note with her recent donation
---
We are almost at the end of February and we are still 30 supporters short of our goal to add 100 new supporting (donating) members in February.
In case you didn't notice, we decided to take a different route than the other newspaper in town. We don't hide our news behind paywalls (How can anyone use news for good if you can't read it!?) Instead, our advertisers and readers pay for the independent journalists we hire to cover local news.
If you can afford it, please become a monthly donor. $10 or $20 a month goes a long way when other readers match it.

NATION
The Democratic-led House passed a bill Thursday that would enshrine LGBTQ protections in the nation's […]
BIG PICTURE
Two of New Mexico's largest power companies are selling to outside investors. What's going on here?
OPINION
by Marti Lelko, Contributor. In the last several months, countries all over the globe have seen the following in […]
Do something this weekend.
TONIGHT: 6:30PM, NM Black Leadership Council Presents:
Kumbuka Celebration!

We will reflect on the past 10 years of the New Mexico Black HIstory Festival and recall the theatrical performances that our community came to know and love. RSVP today to gain access to this special celebration featuring snippets and live interviews of the past cast and crew members of For Colored Girls, Roots Revival, highlights of The Wiz, and much more.
Beer Launch of the Week.
La Cumbre Lager Softly, available only at La Cumbre Taprooms starting Friday at noon until it runs out.
Lager Softly is a well-hopped lager, brewed with the highest quality pilsner malt, and unfiltered for a beautifully simple yet endlessly satisfying experience.
Entertainment
Hollywood is buzzing about New Mexico this morning as multiple sites teased that ABC's popular […]