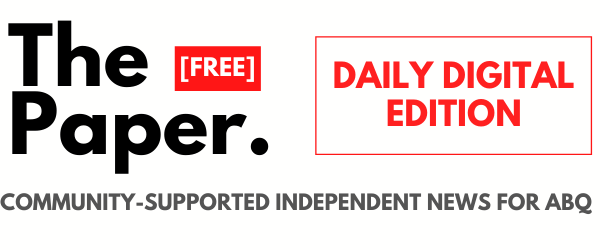 DAILY DIGITAL EDITION | WEDNESDAY FEB 24
SUBSCRIBE | DONATE | CARRY THE PAPER IN MY BUSINESS

It's Wednesday. That means our dedicated delivery team is up early to drop 10,000 copies of a new edition of The Paper on 150+ newsstands all across the metro. Go grab one now!
Yesterday saw the first day of Congresswoman Haaland's historic hearing to serve as President Biden's Secretary of Interior. Today she'll face more questions and hopefully a committee vote. But W. Va. Democrat Joe Manchin, the committee chair, remains publicly noncommittal meaning committee approval is not assured. Then there's a vote of the full senate. That has other problems.
Former NM Senator Tom Udall and his cousin, also a former Senator Udall, have a few things to say in an op-ed in USA Today yesterday.
In case you missed it, here are a few of our favorite highlights from the hearing, from Twitter, of course (this explains why #BearsForDeb is trending on Twitter).
---
---
The hearing continues at 8 a.m. local time at energy.senate.gov and C-Span online.
On Stands Today
Next week, candidates for mayor and five city council seats can begin campaigning for November's city elections. Two weeks ago we looked at the man most expected to challenge Keller, Sheriff Manny Gonzales. This week, we look back at Keller's first campaign, his first three years and how the campaign for or against him might play out.
To get all the stories, you'll have to pick up a copy of The Paper on newsstands, but our digital subscribers get a preview. (see all the stories here).
By Caroloyn Carlson. When Tim Keller ran for Albuquerque's mayor in the 2017 election, he ran mainly on a platform of reducing crime, police reform, economic and energy […]
By Tierna Unruh-Enos. We asked Democrats and Republicans about how they felt they would rate the mayor's job performance.
By Josh Lee. The housing fund was supposed to provide housing vouchers to homeless people to help get roofs over their heads, but much of the money has […]
By Tierna Unruh-Enos. Timothy "Tim" Keller was born and raised in Albuquerque. He graduated from St. Pius High […]
By Tierna Unruh-Enos. The newest crime numbers in Albuquerque show both progress and a dark spot for the […]
By Carolyn Carlson. Mayor Tim Keller was not yet in office in 2014 when the United States Department […]
---
Legislature
In politics, good fences make unhappy neighbors. This story also appeared in Santa Fe New […]
By Jonathan Sims. HB222 would provide legal advice and help, including investigation, resolution, access to student records, reference […]
By Barbara Webber, Health Action NM. More than 214,000 New Mexicans — one-in-ten — navigate their daily lives, including the current […]

Like The Paper? Support the independent journalists writing it.
Community news requires reader support.
Donate now [$10/mo.] [$25 one-time]
---