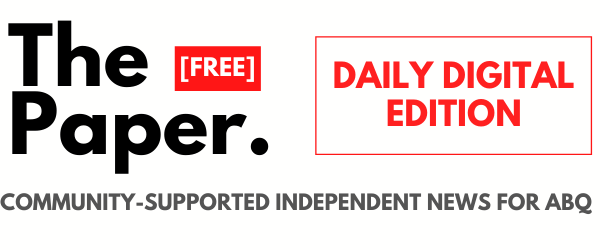 DAILY DIGITAL EDITION
SUBSCRIBE | DONATE | CARRY THE PAPER IN MY BUSINESS
It's Tuesday, February 23rd. It's Deb Haaland's big day and if you need any bigger sign of just how important this is to Native people, check this out: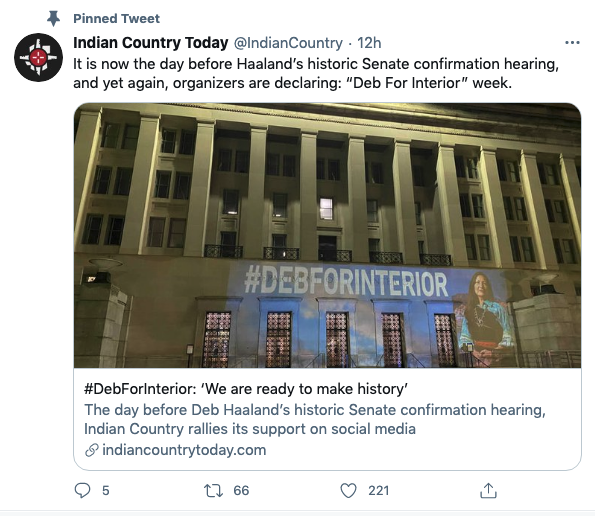 IllumiNative and other Indigenous advocacy groups projected Deb, in traditional Laguna attire, across the front of the US Department of Interior's huge offices along the National Mall last night.
Her hearing gets underway this morning at 7:30 am New Mexico time. If you can't watch (or if you are just curious) we obtained a copy of her opening remarks and posted them here.
Although the historic nature of her nomination cannot be understated, her confirmation isn't a slam dunk. Republicans have all but certainly blocked Biden's nomination of Neera Tanden, another woman of color, to head OMB. W. Va. Senator Joe Manchin, the new deciding vote in the equally divided Senate, says he is undecided on Haaland as well. Democrats have been quick to pounce on what they say is a double standard by those who voted for Trump's nominees, warts and all, who now find fault with Biden's women of color.
Where does all this go? We'll see starting at 7:30 this morning. Here's how you can watch.
Meanwhile, back in New Mexico, it's election season (again?!). Candidates for mayor and five city council seats can officially declare March 1 and at least one familiar name won't be on the ballot.
Don Harris has represented Four Hills and far Southeast ABQ for sixteen years. Yesterday he said he's retiring and that sent both parties scrambling for candidates. Harris is one of just three Republicans on the nine-member council. An open seat and the fact that Democrats flipped and held the State House seat covering most of that district give Dems hope of making it 8-2 when a new council takes office later this year. Are you interested in running? Let us know.
The Paper.
New Mexico & US
Deb Haaland's big day is finally here. Tomorrow (Tuesday) morning, the Senate Energy Committee will […]
---

Legislature
Legislature considers a gas tax that would create new funding for New Mexico's damaged highways […]
The Senate Health and Public Affairs Committee on Friday endorsed 4-2 a bill that would […]
Leaders of Black communities and organizations in New Mexico are asking for public apologies and […]
City Hall
The election calendar for Albuquerque Mayor and City Councilors begins in earnest on March 1, […]

Did you know? It costs a lot of money to write, edit, design, print and deliver a newspaper. We think it's worth it and we believe it shouldn't be available only to those who can afford a subscription. But, if you can afford to support local journalism, please do. 100% of reader donations go to the journalists writing these stories.