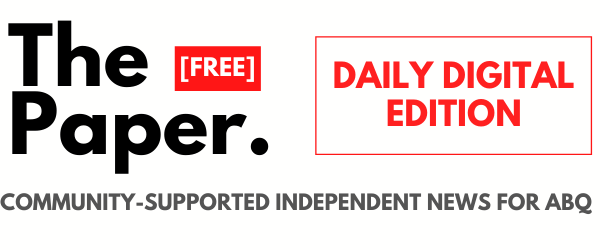 DAILY DIGITAL EDITION
SUBSCRIBE | DONATE | CARRY THE PAPER IN MY BUSINESS
Happy snowy morning in New Mexico! As the old saying goes, if you don't like the weather in New Mexico, just wait 10 minutes. Today's record cold will be replaced with 6o-degrees and sunshine by Saturday.
But until then, stay inside and read some news…
On the COVID front, the US reported less than 100,000 new cases for the first time in months and Dr. Fauci won a surprise prize for standing up to "uninformed opposition."
TEL AVIV, Israel — Dr. Anthony Fauci has won the $1 million Dan David Prize […]
In Santa Fe, legislators are halfway through 2021's virtual session. On Friday, the new Republican Senate leader, Greg Baca of Valencia Co., asked the governor's Black female nominee if her "culture" prevented her from representing others. Watch the tape.
Baca asks if Black nominee could "adequately serve" the needs of non-Blacks, like himself, and whether she "felt comfortable with them"
That set off a firestorm of criticism over the weekend. Baca says he apologized to Secretary-designee Smith and plans to vote for her.
"Well, that ain't right!" Meanwhile, the race to change the race to replace Deb Haaland took a sluggish but important step forward. Right now, each party's nominee is chosen by a small group of about 130 people on their state central committees. When Corrales-area Rep. Daymon Ely learned that, he says he and his wife said, "well, that ain't right," so he wrote a law to change it. Read all about it and if you agree, use our "contact your legislator" tool embedded in the story to do just that.
Legislators have introduced 5 different plans to legalize cannabis this session and, as expected, the little differences make a big difference. After two days and six hours of debate, a House committee advanced one bill. Why? That bill has one important difference and you'll have to read the story to find out what it is.
"Here come the chicken jokes." 60-day sessions are usually for fighting about the same old issues, but this year there's something new: free-range eggs. One state senator has a plan to require all New Mexico eggs to be produced sans-eggs. It's a story worth a read, if only for the chicken jokes. (Again, jokes aside, if you like this – or don't – use our embedded tool to tell your legislators).
Want to read more from the legislature? Just scroll below for more from this busy holiday weekend.
News you can use: Know someone struggling with rental assistance? Bernalillo County Commissioners set aside $5 million to help.
---
Around the newsroom, we are pretty excited about this week's print edition out on Wednesday. In honor of Black History Month, we turned our editorial department over to members of the Black community to give their perspective on being Black in New Mexico.
In today's business beat column, supported by Southwest Capital Bank, our Muhamed Abdel-Hack sat down with Ken Carson about his transition from banking to beer and how his experiences led him to build a business based on giving back.
Business News

Supported by Southwest Capital Bank
Having always been committed to customer service and community partnerships, and even basing his would-be Nexus Bank around those ideals, Ken Carson decided instead to set his entrepreneurial sites to microbreweries.
Other good news in New Mexico business…
---
Help us reach our goal of adding 100 new monthly supporters of independent journalism this month.
Thank you Justin, Richard, Maria, Jim, and James who became monthly supporters last week!
100% of reader donations go to independent journalists featured in The Paper.
[Donate $10 / mo.] [Donate $25 / mo.] [Donate Something Else]
Albuquerque
Commissioners approve $5 million for rental assistance
Also approve more help for homeless students and families
Election to replace Deb Haaland costs a pretty penny
Legislature
Abortion repeal bill could become law: Members of the House Judiciary Committee voted 8-4 along party […]
State Rep. Liz Thomson spoke from experience Monday as she discussed House Bill 222. This story […]
A bipartisan bill that would create new procedures to fill a vacant congressional position in […]
Nation
ATLANTA (AP) — Average daily new coronavirus cases in the United States dipped below 100,000 […]