Daily Digital Edition | Wednesday, February 10, 2020
SUBSCRIBE | DONATE | CARRY THE PAPER AT YOUR BUSINESS
Just when you thought election season was done, here we go again!
In less than three weeks, candidates for mayor and five city council districts can officially file and begin raising money. City elections historically see an incredibly low voter turnout.
At The Paper. we're seeking to change that.
Prompted by the sheriff's not-so-subtle hints that he's challenging Keller, we asked our reporters to look at how Gonzales might run a "tough on crime" campaign against the mayor, and how Keller might fight back. To find out we talked to Democrats and Republicans alike and found a few of each with a few surprising takes.
In two weeks we'll look back at Keller's last four years and what it will take for him to win four more. If other candidates emerge, we'll cover them, too. After that, we'll start profiles of city councilors on the ballot and the challengers who step up to oust them.
Read more about our plans to cover city elections here.
The Paper. is a community paper. If you think we aren't fair or have a different take, share it by emailing editor@abq.news. We just might feature it in one of our future issues.
By the time we get to November, you'll have a whole library of profiles, stories, endorsements and critiques you can use to make your decision.
Pat Davis, Publisher
Tierna Unruh-Enos, Managing Editor
On newsstands today…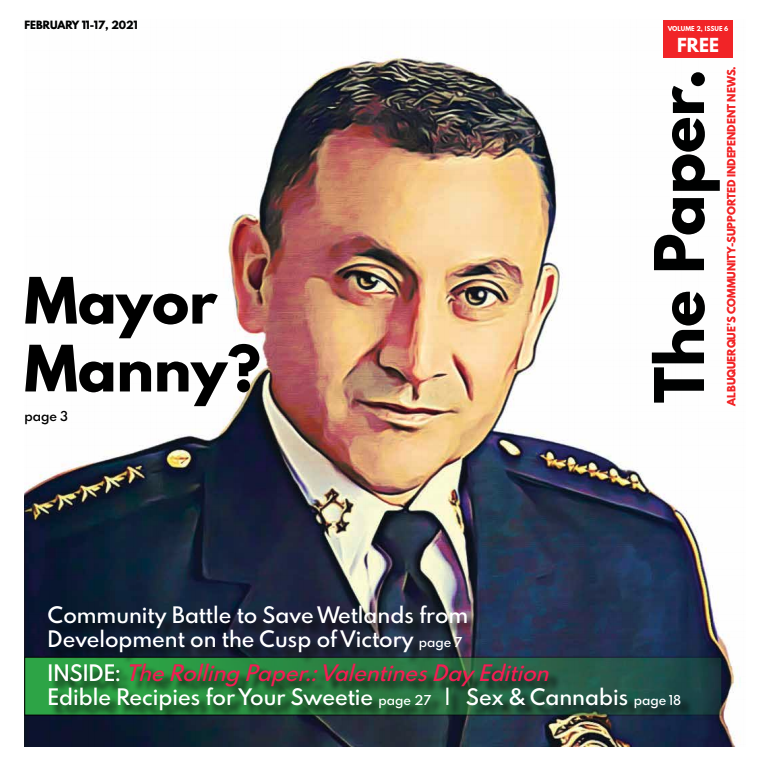 Our editor talked with Darren White, a former Republican sheriff and daytime political talk radio host, to talk about Manny's chances with Republicans, how Keller will likely push back, and the challenges of transitioning from sheriff to another office in the eyes of voters. His answers just might surprise you.
In two weeks: A look back at Tim Keller's last four years, and how he'll make the case for four more.
---
Think ABQ needs more, better local election coverage? So do we.
A community paper requires reader support. Become a monthly donor for just $10, $20 or $50 a month. 100% of your donation goes to the independent journalists covering this year's city elections and local stories.
---
LEGISLATURE
A summer 2020 state legislative report said New Mexico has to centralize its oversight of broadband services. In late 2019, a Legislative Finance Committee report […]
New measure would prohibit law enforcement officers from using force unless they had first tried all possible deescalation efforts.
Bills would provide immediate economic assistance in the way of grants for thousands of small and midsize businesses to use for mortgage, rent or lease […]
Arts + Entertainment
Super Bowl is the one time of the year Americans can focus on TV commercials […]
---
COVID-19 in New Mexico
Updated with 2,000 new records on February 9th.
---
Tell us what you think of The Paper! Want home delivery? More coverage of this, not that? Our 1-min. survey gives you the chance to tell us what you want next.