,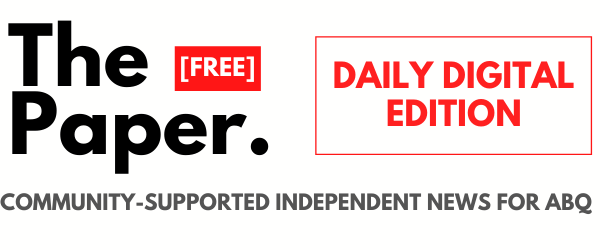 DAILY DIGITAL EDITION | FRIDAY FEBRUARY 19
SUBSCRIBE | DONATE | CARRY THE PAPER IN MY BUSINESS

It's Friday, the snow is (mostly) gone and highs are creeping up into the 50s this weekend. If you are one of the more than 150,000 New Mexicans now fully vaccinated, congrats!
New data from the state's vaccine dashboard shows that New Mexico has now given 465,000 doses of vaccine and 18% of Bernalillo County — that's almost 1-in-5 — have received at least one dose. For the rest of us, hang in there, wear two masks and be sure you are registered.
---
A new study backed by the Centers for Disease Control (CDC) found that a combination […]
---
Legislators in Santa Fe are just over the halfway mark. Expect to see the first draft of the state budget introduced in a House committee this weekend or early next week. News of a post-lockdown oil and gas boom was a boom for the state's budget as well.
What will legislators do with all that new money? The governor wants it for broadband access and legislators see opportunities for local capital outlay projects and special programs. Watch for discussion of another "junior" spending bill in the coming days.
One legislator, meanwhile, is looking at how to spend a few bucks to increase access to outdoor recreation for young people. Our Gwynne Unruh talked to State Rep. Angelica Rubio — who biked from Las Cruces to Santa Fe for her first legislative session(!) — about her push to connect more minority youth to the outdoors.
---
State Rep. Angelica Rubio has a heart for the outdoors.
---
And in these final weeks of the session, watch for lots of bills to create new license plates. New Mexico already has lots and lots and lots of specialty plates, but legislators and governors love making new ones.
One of our favorite pieces from this weeks' legislative coverage is this story of how New Mexico's specialty plates began way back in the 1930's and how legislators and governors have come to love them.
---
Featured from Milan Simonich, SF New Mexican. New Mexico Legislature has put forth at least 64 license plate bills since way back when…
---
Legalization looks more and more likely to happen in Santa Fe. Shanon Jaramillo, the CEO of SeedCrest, a woman-owned cannabis staffing and education company, explains why this is so important for New Mexico's economy. Read this…
---
OPINION | Shanon Jaramillo, CEO, SeedCrest.
---
News
Three bills lighting the way for the creation of a redistricting plan in New Mexico […]
On Thursday, members of the state House Energy, Environment and Natural Resources Committee debated a […]
SANTA FE, N.M. (AP) — Managers of New Mexico's health insurance exchange have scheduled a […]

Weekend
By Shannon Moreau
Thursday, February 18 SOUL TV From 1968 to 1973 the PBS variety show "SOUL!" offered […]
Film + TV
There is a saying in African folklore: "How a story is told depends upon the […]
Thursday 18 "Archibald's Next Big Thing Is Here" (Peacock streaming) Tony Hale's animated comedy about […]
KOAT-TV's General Manager Lori Waldon is the first general manager of a television station in […]
---
Like The Paper? Support the independent journalists writing it.
Community news requires reader support.
Donate now [$10/mo.] [$25 one-time]