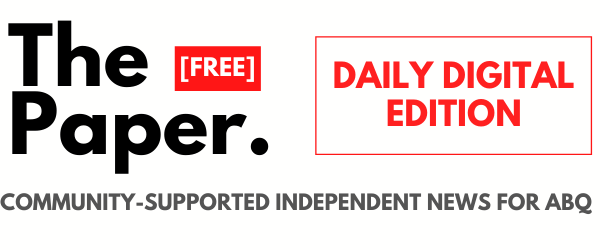 DAILY DIGITAL EDITION
SUBSCRIBE | DONATE | CARRY THE PAPER IN MY BUSINESS
Ten people, including a 51-year old police officer, were killed yesterday in Boulder, Colorado by a male with what police described as a "patrol rifle." Police will release more details at 8:30 this morning.
This is the 103rd shooting in America involving more than one victim in just the first 3 months of 2021. It is the 6th mass murder and follows the murder of 8 Asian-American victims in Atlanta last week.
By PATTY NIEBERG and THOMAS PEIPERT Associated Press. BOULDER, Colo. (AP) — A shooting at […]
Without a doubt, these two recent high-profile mass murders will renew calls for federal action on guns. Boulder, for its part, had passed a ban on the type of rifle used in this shooting but the NRA sued and the ban was overturned just 10 days before the shooting.
Two recent stories locally show just how hard it is to take on this issue locally. A proposal to expand the state's so-called "red flag" gun laws fizzled in the legislature this year and a young BLM organizer detained by APD for violating Mayor Keller's executive order against guns on civic plaza ended up with a big settlement to avoid a lawsuit. (That young Black man is now an advisor to APD on race relations).
Overnight, APD recorded what appears to be its 24th homicide after a woman called police to report a man she had obtained a restraining order against was on the scene. He was dead by the time APD arrived at the Westside home. That investigation is ongoing.
While the city has lowered property crime rates by almost 10 percent over the past few years, violence, particularly gun violence, remains stubbornly high. Pick up a copy of The Paper. on newsstands Wednesday for our exclusive interview with APD's new police chief, Harold Medina, where we ask about his plan to turn that around.
COVID 19 + New Mexico
New Mexico is turning the corner on COVID-19. While we are far from done with this, almost 40 percent of New Mexicans now have at least one vaccine and almost 1-in-4 are fully vaccinated.
The state's next Red-to-Green update is due out tomorrow. Bernalillo County, currently in the yellow zone, was close to green two weeks ago. Ongoing vaccinations should impact that number.
---
If you needed more encouragement to get your COVID-19 vaccine, starting this week Krispy Kreme […]
ALBUQUERQUE, N.M. (AP) — Grocery store employees, home caregivers, farm workers, other essential workers and […]
Nation
By Josh Lee
Last week Vanita Gupta shoved a spike into the heart of every drug reform advocate […]
Weird News
With the legislative session behind us, we're turning back to some of our favorite features, including Weird News of the Week. Enjoy.
By Josh Lee
Naked Cowboy is arrested in Florida, scientists say Zoom calls cause anxiety, man props up […]
---
Like having an alternative source of news in Albuquerque? Support The Paper. by becoming a sustaining donor for as little as $10 per month.
Thank you to Clayton, Carl, Ann, Elizabeth, Marlys and Clayton for supporting local independent journalism!