,
Within a career stretching across the state's arts centers of Taos, Santa Fe and Albuquerque, Roy Johnson has rolled with the punches.
"Taos is tough; there is no winter market," Johnson said. "In Santa Fe I had too many frustrations with cash flow."
To get through the lean winters, Johnson contacted clients living in drive-states who had purchased from him at least one painting costing $5,000 or more. "I said, 'Host me at your country club.' On Friday night we'd have a private reception at their home and on Saturday night there'd be an art sale at the club."
In this way, Johnson might have invented the pop-up show.
Then Albuquerque called. "Pamela and Don Michaelis and John Cacciatore [Ed. note: prominent ABQ arts supporters and a gallery owner] wanted to start an arts festival," he said. "We moved into 516." What followed was Magnifico! ABQ Festival of the Arts showcasing visual, literary, performing and culinary arts in year-round events. 516 Arts occupies that building at present, where Suzanne Sbarge has since forged her vision of an internationally known, non-collecting museum of contemporary art.
After a successful nine-year stint owning a gallery in San Diego, Johnson came back to Albuquerque in 2005 and fell in love with 517 Central Ave. NW, the building across the street from 516. "Within one hour, it was mine," he said. Friends were skeptical ("Downtown? Really?") but Sumner & Dene was launched. The gallery has been an old Route 66 fixture ever since, bringing in foot traffic and tourists to purchase fine art and locally made crafts.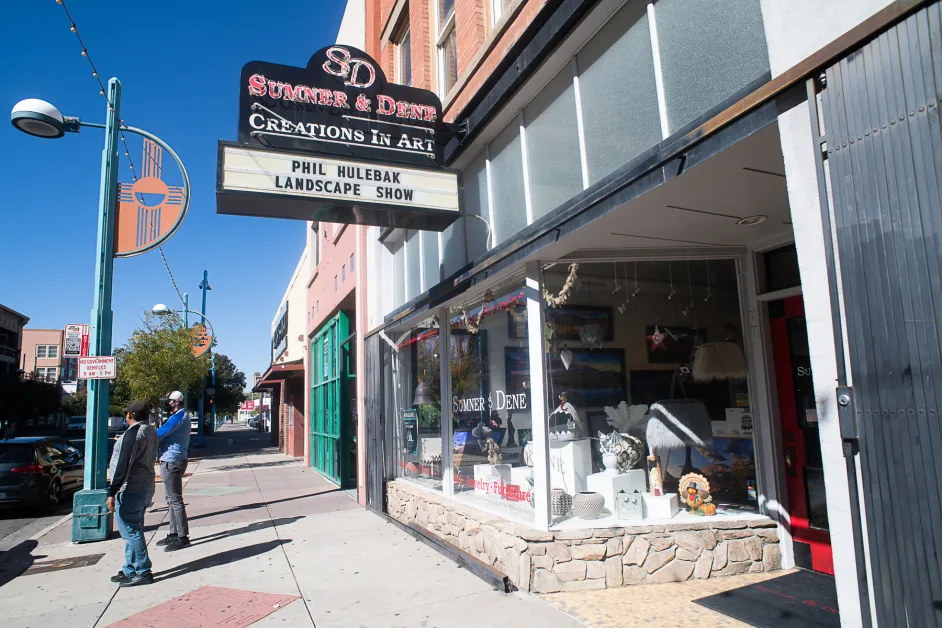 At Sumner & Dene, there's something for everybody, although the upscale crafts mix has bothered some people. For example, "In Taos some artists weren't happy with the crafts," said Johnson. "They told me, 'If you get rid of all that tchotchke stuff you can represent me.' You know, not everybody has to buy something that's between $500 and $5,000." Sumner & Dene offers well-priced jewelry from local artisans and objects for home decor, even the occasional small bench or side table.
Johnson said it upsets a lot of people in the arts community that Sumner & Dene, representing 59 artists, is going away. "I take that as a compliment. It's very bittersweet."
And now comes the part where COVID ruined everything – not. "The last two years have been incredible. We shut down for three months for COVID. If I hadn't bought this building, I would have closed then." But when he reopened, Johnson found that his regular clientele had money to spare. "Their expensive vacations had been canceled, and they wanted a Phil-Frank-Angus-David and they were going to buy it now. Almost every day someone bought something major." The artists he names are customer favorites whose careers he has nurtured: Phil Hulebak, Frank McCulloch, Angus MacPherson and David Zaintz.
Other artists and friends have passed away recently, like Mark Horst, a public art sculptor and figural painter whose works are shown on the wall behind Johnson (above). Thinking about mortality helped bring Johnson to his decision to retire and enjoy his private life.
His legacy is hyperlocal. "Ten years ago, I decided to only represent Albuquerque painters," he said. "And 80 percent of our business is local."
He also said that he is still selling paintings to Boomers and he hasn't sold a major painting to anyone under 50 in 10 years. Younger collectors go for iconic Albuquerque photographs like those by Bill Tondreau. "Lots of young couples like Bill. He really captures why we all floated here."
Johnson's knack for nurturing relationships has garnered him about $30,000 annually since "Breaking Bad" began filming here. "If Water White would just sell the art collection in his home, he wouldn't have to manufacture drugs," he wryly said. And he is very grateful for "Better Call Saul," especially in its last season. (Tips for selling art to TV shows and movies? "You have to sell them art that is BIG and that the camera isn't attracted to – soft palettes, like Jeannie Sellmer's work," another artist who is represented at Sumner & Dene.)
While Johnson, who loves to travel the world, happily looks forward to retirement, he is sad to think he might have to leave some of those carefully tended relationships behind. "Every day I get to talk to somebody. I'm such a talker. This is my social life."
He does fear that he won't be as close to his artists and friends, some of whom are the same people."I hope they still want to spend Christmas with me!"