Election integrity, campaign tactics, and ethics are all matters of contention in Roswell and the rest of Chaves County as two candidates vie for an open Magistrate Judge seat.
On one side, there's James Mason, a lieutenant with the Chaves County Sheriff's Office (CCSO) who has a history of misconduct and dishonesty. On the other, there's Nicole Rogers, who heads the animal control department for the City of Roswell and whose father is also a Magistrate Judge in the district. Both candidates previously worked for the Chaves County Detention Center.
With two candidates who have such strong ties to the arrest and detention side of the law, it's worth noting that there is a surprisingly low bar to be a Magistrate Judge in New Mexico, with the power to send people to jail for up to a year and to sentence them to court requirements like probation or monitoring. As long as a Magistrate Judge's seat is located in a county with less than 200,000 people, the only requirement is a high school diploma. That's it. For counties with a population over 200,000, candidates must be licensed attorneys in the state. Chaves County has a low population with Roswell being its most populous city. And so each candidate simply needs a high school diploma. As with all elected offices, convicted felons need not apply unless they have been pardoned by the governor.
Both candidates are running as Republicans, and Chaves County is historically a Republican stronghold in New Mexico, with 70 percent of the vote in the last presidential election going to Donald Trump.
Candidate #1: James Mason
Mason has vocal supporters in Chaves County: chief among them is his boss, Sheriff Mike Herrington, who has publicly endorsed the lieutenant using the Chaves County Sheriff's Office social media accounts, which is frowned upon and considered a campaign violation.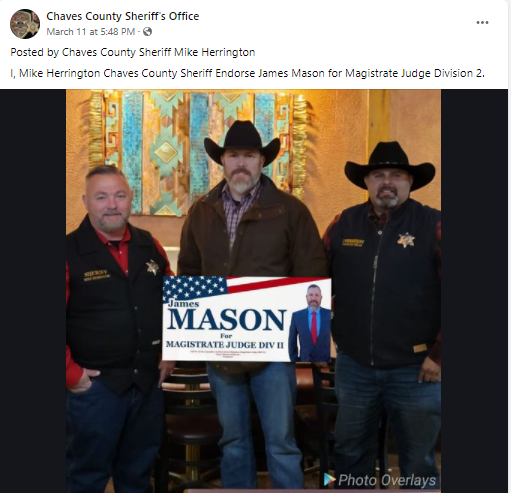 When asked about the endorsement from the official county social media account, Alex Curtas, director of communications for the Secretary of State, referred to the Governmental Conduct Act.
The Act prohibits a public officer or employee from violating the officer's duty not to use property belonging to a state agency or local government agency or allow its use, for other than authorized purposes.
Campaigning is not an authorized purpose. The Paper. reached out specifically to the SOS for comment on the campaign violation but did not hear back as of press time.
The Giglio Letter
The Paper. received numerous anonymous tips about an issue that continues to bubble to the surface in this hotly contested race, which is Mason's disciplinary history as an officer. Mason was subject to disciplinary action in 2011 which resulted in a Giglio disclosure from the 5th Judicial District Attorney in 2014. A Giglio letter is based on a Supreme Court ruling established in Brady v Maryland and United States v Giglio that prosecutors have a duty to disclose when an officer has a known issue of misconduct in their personnel records that could affect that officer's credibility.
"This office has received information that Deputy Mason was subject to a disciplinary action in August 2011," Deputy District Attorney Emily Maher wrote in the 2014 letter to the Law Offices of the Public Defender for a case Mason was involved in.

On social media, Mason said the letter was not going to stop him from continuing to serve the community as the next Magistrate Judge, but refused to comment regarding the disciplinary action that triggered the letter. A man identifying himself as Jesse James and claiming to be Mason's campaign manager on Facebook said that there was "zero wrongdoing" by the candidate.
"This document has been in existence since 2011," Mason wrote from his campaign page on Facebook. "There are claims that this letter prevents me from testifying in court. This matter has been heard in District Court and in no way has it hindered me from testifying."
What Mason said about the Giglio letter is accurate, because a Giglio letter doesn't actually prevent a law enforcement officer from testifying in a case. Instead, the letter notifies the defense that an officer has previously been found to have committed some form of misconduct that might be damaging to the officer's testimony. In other words, the officer in question could potentially bring harm to the case as a witness. The result might be that the prosecutor must drop the case, settle or take their chances in court.
"Giglio is a Supreme Court decision about the state's obligation to notify the defense if there is adverse information about a police officer. These aren't letters you actually see often in the 5th, they're fairly unusual," said Deirdre Ewing from the Law Offices of the Public Defender in Chaves County. "I've been practicing down here as the District Defender for five years now, and I've never received a Giglio letter on any of my cases."
Ewing said she respects the personnel records of individual officers and that she's not certain whatever misconduct triggered the Giglio letter should be made public. She also noted that the information in the letter was from 2011 and significant time has passed.
"But the fact that there is somebody who is a candidate for Magistrate, that has a Giglio letter out there, especially in a jurisdiction where that does tend to be fairly uncommon, I think it's something the public has a right to know exists," Ewing said.
After multiple attempts to reach Mason, he and his campaign declined to comment on what exactly triggered the Giglio letter, and have repeatedly said that the record has been "sealed." The records are, in fact, not sealed. While a judge determined in one criminal case that the disciplinary records were not relevant and were sealed for that specific case's prosecution, that does not impact the availability of the records from the county via the Inspection of Public Records Act. The Paper. requested and received those records.
Mason has actually two disciplinary actions as a result of two different car accidents involving his family in a patrol car. Mason's personnel file details the August 2011 disciplinary action, which was related to a car accident where he backed a Chaves County Task Force truck into a car.
"On November 12, 2009, you were involved in a [sic] accident," Coon wrote in the same disciplinary letter. "After reviewing that accident report prepared by the Roswell Police Department, I noticed that you had your wife and two daughters with you. I called you into my office following that accident and advised you that you were never to have your family with you when you were in a Chaves County or a Task Force vehicle.
"Immediately after the accident, you sent your wife and two daughters into Sam's and waited for a Roswell Police Department Officer to arrive at the scene," an August 16, 2011, letter from former sheriff Rob Coon states. "When giving the details of the accident, you neglected to tell the investigating officer that you had three passengers in the truck with you. Subsequently, when the investigating officer submitted his report, it showed that you were by yourself in the vehicle. Failing to provide this information to the investigating officer is nothing less than reporting false information and I consider this to be a lie by omission."
Mason was suspended for 40 hours for neglecting to tell the Roswell Police Officer that investigated the July 10, 2011 accident that his family was with him, and another 40-hour suspension was levied for disobeying the order not to have his family in his assigned task force vehicle.
Ironically, Mason was a part of that exact task force at the time; he has not been a part of the task force for a number of years.
Mason's personnel file revealed that he was commissioned as a federal officer in October 2010 but that commission was set to expire in 2012. There were no other documents indicating he was re-commissioned as a federal officer.
Chaves County Sheriff Mike Herrington did not respond to multiple interview requests about the disciplinary action or its outcome.
There are other questions about Mason being elected as Magistrate Judge, and if he would then need to recuse himself from cases submitted to the court by deputies he currently supervises as a lieutenant.
"[These questions also come up] when you have a prosecutor or a public defender who runs, and I can't say yes or no he would have to recuse," said Phyllis Dominguez, executive director of the state Judicial Standards Commission. "We would not become involved at all unless something comes before the commission."
Rule 21-211 of the Judicial Code of Conduct states that a judge must recuse themself any time there could be an appearance of impropriety. That includes things like hearing cases where there are personal relationships with any party of a case.
Candiate #2: Nicole Rogers
Nicole Rogers may not have the questionable disciplinary record that Mason does, but she does have her own interesting political ties. Rogers has been a vocal Trump supporter and was interviewed at an Arizona rally wearing a Q-anon shirt and carrying a sign that read, "I'm Gay But I'm Not Stupid. Trump 2020." She was also seen at a Trump rally in Texas carrying the same sign.
But her sexual orientation is exactly what some in Roswell are attacking now.
"You know guys there's some evil stuff going on in our community right now, people know I have spoken up about the Magistrate Judge thing going on, I'm saying this in this service because it's on Tele—I want people to know, it's on tape, and there's a young lesbian woman running for that judge, and then there's a heterosexual Christian man running," Church on the Move Pastor Troy Smotherman said during a March 20 worship service. "They put a sign up right across the street from our church, and I'm telling you they did that, that was evil, that was a shot. And it's okay, they can take their shots, but I'm telling you right now, if you call yourself a believer and you're voting for that you're in trouble. I said you're in trouble, you're going to invite ruin on you and your household, no one's perfect running for office, but we can't vote in people who blatantly and openly live in defiance to the will of God."
Within 24 hours of that sermon, one of Rogers' campaign signs across the street from the church was destroyed.
But Rogers said she wasn't "taking a shot" at the church; in fact, the church didn't even play a part in her decision when she placed the sign there.
"The property owner allowed me to put that sign there specifically because of the traffic, there's a lot of traffic down that road," Rogers said. "Not church traffic, just traffic. That's the whole point of political campaign signs is to get them to where people see, so it was implied that I did that out of being 'evil' or something, and no, that was the furthest thing from my mind, it didn't have anything to do with anybody else but my campaign."
Even though Smotherman didn't name Rogers, she said it was clear who his comments were aimed at.
"There isn't another lesbian running for judge," she said. "I'm the only one, they didn't say my name, but I'm the only one. It's disheartening, because, I am a Republican, I did go viral when I was campaigning for Donald Trump because I walked around with a sign that said, "I might be Gay but I'm not Stupid," and it got a lot of attention and then when people wanted to speak with me, you know I explained to them you know look I'm just tired of people saying that because you're a certain way then you have to think a certain way."
If the pastor's name and his political tactics sound familiar, they are. Troy is the brother of Albuquerque pastor Steve Smothermon. Steve has repeatedly made the news in the past several years for campaigning from the pulpit at Legacy Church.
After Troy's declaration last week, during a gubernatorial campaign stop, New Mexico Rep. Rebecca Dow (R-Truth or Consequences) addressed the same congregation. During her introduction, Smotherman again referenced the Magistrate Judge election. After telling the congregation he believes the separation between church and politics is the work of Satan, Smotherman said that he would be introducing people from time to time that he knew to be Christians.
"You all know that at Church on the Move we're going to speak up and speak out, leadership in the state, I'm going to encourage you to vote, and you may not vote for who I'm voting for, but I'm going to present to you people like Lieutenant Mason for Magistrate Judge, and others that I know are Christians," Smotherman said just before introducing Dow.
Mason's campaign finance filings with the Secretary of State reveal that Julie Smotherman (the wife of Troy) donated to his campaign. Rogers has not filed any campaign finance forms yet.
Both candidates are in compliance with all reporting requirements according to the Secretary of State website.