Continuing our coverage of policing and transparency in the criminal justice system, we reported on "The Bad Cop List," where attorneys often keep internal lists of officers who have been determined to be untrustworthy because of misconduct or internal affairs investigation findings, some of which have never been disclosed to the public. The U.S. Supreme Court determined that prosecutors must disclose that type of information to a defendant in a Giglio disclosure, a court filing named after the Supreme Court case establishing the requirement. The Bernalillo County District Attorney's office has implemented a public system that discloses when the DA has filed a Giglio disclosure with the state. As of June 10, there were 10 officers listed on the DA's website including some publicly named for racist comments, lying on public records and alleged abuses of force.
For now only the Bernalillo County DA is publicly naming officers with those credibility issue, and then only when a new case involving that officer is filed. For the rest of the state, it can be almost impossible for the courts and public to know when an officer is accused or credibly found to have been untrustworthy in office.
The Paper. found that New Mexico lacks a uniform system for reporting and tracking officer misconduct, enabling problem officers to bounce from department to department, essentially starting with a clean record each time. District attorneys are no different. Other than in Bernalillo County, no other DA publicly names or shares a list of Giglio-eligible officers. That means prosecutors in one judicial district may not know if prosecutors in a neighboring district consider an officer untrustworthy in court.
Problem officers who get into trouble for misconduct can often jump from police agency to police agency as long as their state certification remains intact. But the state agency responsible for issuing (and revoking) those certification is months behind in investigating misconduct cases. And there is no requirement for agencies to report violations to the court or whether an officer had a Giglio disclosure. It is up to the hiring police agency to conduct an extensive background check on the officer and determine whether or not a report of misconduct or a Giglio disclosure should compromise the hiring process.
The state board that oversees police misconduct is the New Mexico Law Enforcement Academy Board (LEAB). The board, chaired by the state attorney general, comprises nine members who collectively manage the certification for all New Mexico law enforcement officers and telecommunications dispatchers. The LEAB reports all sustained findings of misconduct to the National Decertification Index (NDI), a national registry of certificate or license revocation actions relating to officer misconduct. It also maintains misconduct report files on each officer or telecommunication dispatcher. New Mexico Law enforcement agencies must report to the LEAB within 30 days of hiring or separation of an officer or telecommunicator.
Currently, there's a backlog of 101 open cases on file with the LEAB, and the board has received 42 more misconduct referrals since June 1, 2020. That's 101 cases of officer misconduct that the board hasn't reviewed to determine whether or not an officer should lose their certification. This leaves the officer free to move from agency to agency without a misconduct report on their record.
Roswell Police Chief Philip Smith has been with the Roswell police since 2013 and is a third generation police officer from Boston. He says his agency is one where officer misconduct and a Giglio disclosure won't be tolerated. "If you have a Giglio on your record, you should be eliminated from the police department. I'm not keeping a compromised officer," he said. "When you hire an officer, the taxpayer is expecting a fully functioning officer who can complete all of his or her duties to the full extent. If I have a sworn officer who has been determined to be untrustworthy, that officer isn't functioning to their full capacity, and so the public is paying full price for only part of an officer."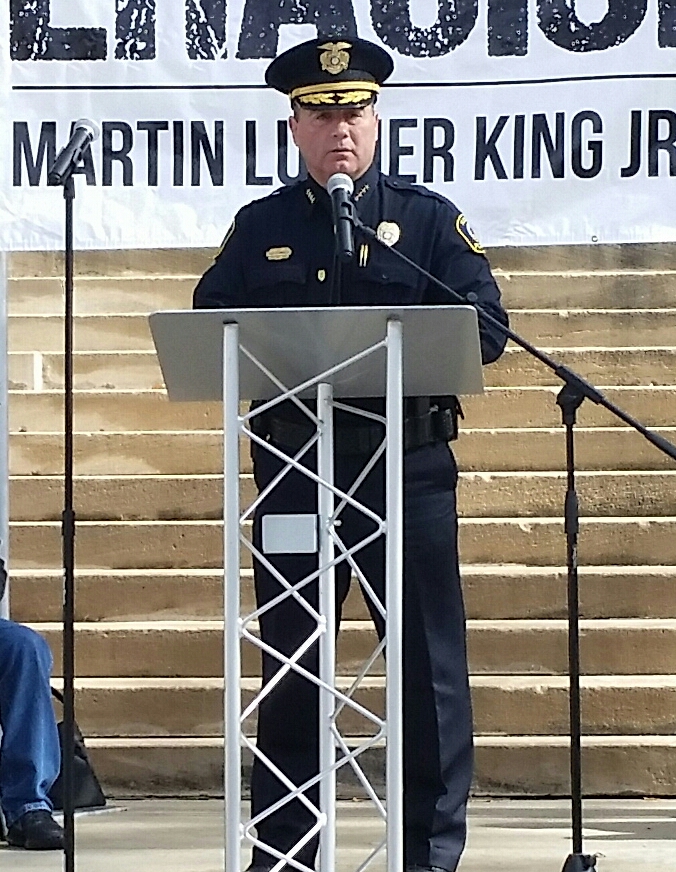 Smith says he believes there should be a statewide public list of officers who have Giglio disclosures filed, much like the one that Bernalillo County DA Raul Torres has implemented. He said this would help agencies when they are doing background checks on officers who may be flying under the radar and moving to a new agency before their misconduct reports are public or before they lose their license.
So why are officers with misconduct reports allowed to move from agency to agency? Smith says it's because many police agencies are desperate to hire and don't have a large pool to choose from. These agencies may be ignoring liabilities to fill vacancies. This often happens when the agency is in a small town and may have a hard time attracting new hires, or if it's a larger agency like the Albuquerque Police Department. APD currently has 961 sworn officers, and Mayor Tim Keller has made it his goal to hire 100 officers each year that he is in office. The Bernalillo County Sheriff's Office has 321 officers and plans to continue hiring.
To be clear, not all reports of officer misconduct are for breaking the law, nor does every Giglio disclosure filed against an officer automatically prevent that officer from being able to testify in court. It does however bring into question the officer's credibility and ability to act as a witness or investigator in a case.
For Smith that's more than enough. "You can't get around dishonesty," he said. "If you're dishonest in your job and that's in your record, you can ruin a case, and then the victim is just re-victimized because they'll never have their day in court." He says Roswell police recruits go through 10 weeks of internal training after they complete 15 weeks of the police academy. During those 10 weeks, he says officers are told on a daily basis how dishonesty will cost them their job.
Farmington Police Chief Steve Hebbe is also the president of the state's association of chiefs of police. He agrees with Smith. He believes that cops need more training and that there should be a statewide system overseeing misconduct reports and Giglio disclosures. "If the LEAB had more funding and was fully staffed, there should be no reason that the LEAB has a backlog of over 100 cases," he says. "When there are that many cases open, it slows the entire process down. It might take up to three years for an officer to lose their certification. It's slowing down the criminal justice system, and it's not helping with oversight."
Hebbe says this was what he and the New Mexico Police Chiefs Association were hoping to accomplish in the legislative session last year with Senate Bill 375. The bill included more money for training, but he would also like to see a system where the LEAB would separate into two branches: one that oversaw misconduct reports and one that oversaw training. The bill passed the Senate Judiciary Committee but never made it to the floor. Hebbe says he's hopeful that they can revamp the bill and introduce it into next year's legislative session.
"There's a culture change that needs to happen. Cops have a lot of power on the street. This is someone with a gun who is interacting with the public, and they need to be trusted to use that authority in a proper way," Smith said. "You have to do your due diligence in hiring and keeping these officers, and I don't know why anyone would want it any other way."
The LEAB is scheduled to review 14 of the 101 cases at their June 24 regular board meeting at 9am. You can watch the public portion of the meeting at bit.ly/3g1LTZ6
Read the rest of The Paper.'s series on "The Bad Cop List."