,
A shooting at a Boulder, Colo. supermarket killed 10 people Monday, including a police officer who was the first to respond to the scene, authorities said. The officer killed has been identified as 51-year-old Eric Talley. Officials say Talley had been with Boulder police since 2010 and leaves behind seven children.
Albuquerque Public Schools has confirmed with media that Talley was a graduate of Highland High School in 1988. APS alumni posted messages on social media in remembrance of the slain officer.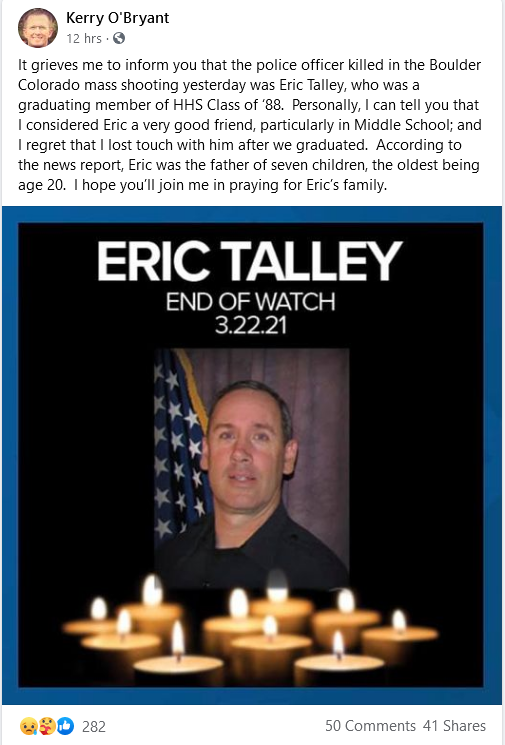 Police on Tuesday identified 21-year-old Ahmad Al Aliwi Alissa as the shooter, who is from the Denver suburb of Arvada, and confirmed that he engaged in a shootout with police inside the grocery store. Alissa is being treated at a hospital and was expected to be booked into the county jail later in the day on murder charges.
Investigators have not established a motive, but authorities believe he was the only shooter, Boulder County District Attorney Michael Dougherty said. "This is a tragedy and a nightmare for Boulder County," Dougherty said. "These were people going about their day, doing their shopping. I promise the victims and the people of the state of Colorado that we will secure justice."
According to the Associated Press, the suspect bought the assault rifle six days before the shooting according to an arrest affidavit released Tuesday. The documents did not detail where the gun was purchased.