,
Whoever inherits the mayor's 11th floor office in City Hall this November will be responsible for implementing the Department of Justice's mandated reforms for use-of-force abuses.
While Albuquerque Police Department has added more officers and totally revamped the city's police accountability and training programs, the most recent DOJ progress report says that APD has failed to instill any sense of accountability for abuses of force by police.
So can the county's "tough on crime" Sheriff Manny Gonzales do any better? A growing number of Bernalillo County families and visitors would likely say no.
In cases examined over two years from 2017 to 2019, Bernalillo County paid out almost $10 million in settlements involving allegations of racial profiling and unconstitutional uses of force, including shootings occurring under Sheriff Manny Gonzales.
Killing of Martin Jim and Shooting of Isaac Padilla
Around 4am on Nov. 17, 2017 deputies initiated a high-speed chase across the South Valley, which eventually led to deputies blocking in the vehicle being pursued. A deputy who had been on the street less than two years opened fire on the vehicle seven times, killing the man in the back and severely injuring the driver. The deputy who fired was the son of Gonzales' undersheriff, and Gonzales quickly pronounced the shooting justified. A federal judge disagreed, and the county settled several suits for $3.3 million.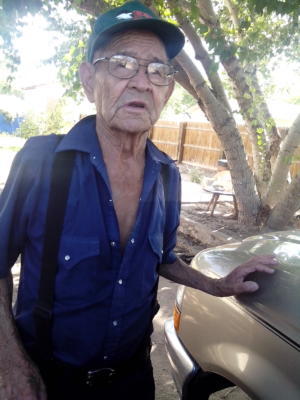 Death of Robert Chavez
Robert Chavez, 66, was killed when a stolen vehicle being chased by deputies crashed into his car near Broadway and Avenida Cesar Chavez in the Southwest part of the city. The Sheriff Department's old policy would not have allowed officers to pursue for a stolen vehicle, but Gonzales had changed it just a year before this crash. The county settled with Mr. Chavez' family for $700,000, according to news reports.
Racial Profiling Suit Settled
In 2020 Bernalillo County paid $100,000 to settle the case of an African-American woman who had been pulled over three times, but never ticketed, within the span of a few weeks. As it happened the woman as working for a federal law enforcement agency and knew her rights. A review of BCSO traffic stop data found that 17 percent of those stopped by deputies on that stretch of roadway were Black, while less than 3 percent of the county's population is Black. In addition to the settlement, Gonzales was required to implement bias-prevention training for all deputies. Gonzales responded by saying his department is already diverse.
The Shooting of Elisha Lucero
In the summer of 2019, family members called BCSO for help after Elisha Lucero, who family members said was suffering with a mental health issue, committed a misdemeanor battery against her uncle who was trying to help. Deputies had been to the house previously for mental health calls and, according to the lawsuit, should have responded with mental health professionals or taken special precautions to de-escalate the situation. Instead, deputies closed in on Lucero, who charged at them with a knife and was shot 21 times. The county settled for $4 million. A spokesperson said the Sheriff's Department was "sickened by the amount of the settlement."
The Death of Fidencio Duran
Fidencio Duran, 88, was wandering down a South Valley road shirtless and disoriented when he encountered BCSO deputies. Having lost his wife the day before, the frail octogenarian was understandably distraught. Though the details are not all clear (there were no cameras), the lawsuit that followed alleged that deputies shot Duran approximately 60 times with a pepperball gun then released a muzzled K9 on him. He later died from pneumonia, acquired while recovering in the hospital. The medical examiner determined his death a homicide, and the county settled for $1,495,000. Sheriff Gonzales issued commendations to the deputies involved.
The Paper. requested a list of all recent settlements and use-of-force incidents involving BCSO, but the request is still pending. Last week Sheriff Gonzales held a press conference to blast efforts by the governor and legislators to end qualified immunity protections for officers who violate civil rights.