,
A shootout on eastbound I-10 between Deming and Las Cruces on Thursday, Feb. 4 has claimed the life of New Mexico State Police officer Darian Jarrott. Jarrott was stationed in Deming, N.M. and was assisting Homeland Security Investigations (HSI). He initiated a traffic stop on a white Chevrolet pickup truck on Interstate 10 eastbound, near mile marker 101 east of Deming.
During the traffic stop, the driver was identified as 39-year-old Omar Felix Cueva, who fired at least one shot at Jarrott who was struck and killed by gunfire. A broadcast was put out to state and local law enforcement agencies. A NMSP officer located Cueva traveling east on Interstate 10 near mile marker 116. Cueva pulled over at the exit and fired at the officers, who returned fire. A pursuit was initiated as Cueva continued to evade officers, traveling east on Interstate 10.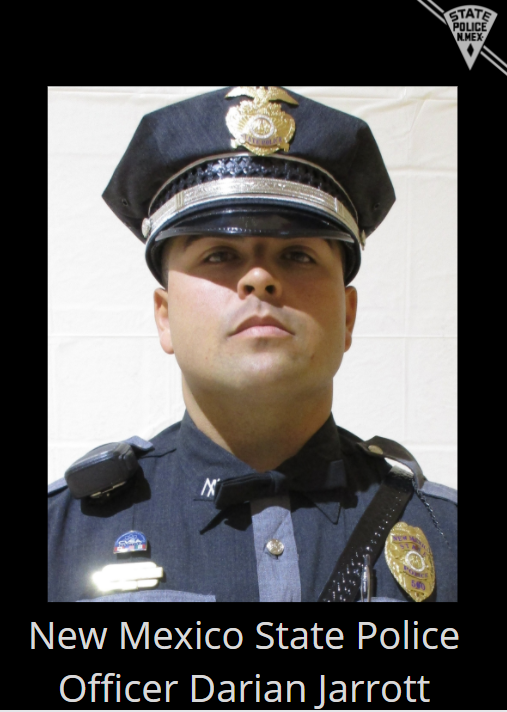 During the pursuit, other NMSP officers utilized tire deflation devices near the Picacho exit on Interstate 10 and near milepost 135 by Las Cruces. Cueva continued to flee east on Interstate 10. At that time officers from the Las Cruces Police Department (LCPD), the Dona Ana County Sheriff's Office (DASO), a U.S. Border Patrol agent (USBP) were in pursuit.
Officers were able to stop the vehicle, and Cueva exited armed with a firearm and shot multiple rounds towards the officers and deputies. Officers from LCPD, NMSP, DASO, and USBP returned fire towards Cueva, who was struck at least once. Officers gave aid to Cueva until emergency medical personnel arrived. Cueva was pronounced deceased on scene by the Office of Medical Investigator. One Las Cruces Police officer was struck by gunfire. The officer was airlifted to a trauma hospital in Texas where he was treated and released for injuries believed to be non-life threatening.
In a statement, Governor Michelle Lujan Grisham said, "I am shocked, heartbroken, and enraged by the loss of this public servant. I am praying for the local officer who was also shot and injured. We are still learning more about what happened and why, as law enforcement authorities continue to investigate, and we will all get the facts about what happened today." The governor has ordered flags to be flown at half-staff from Friday, Feb. 5, through sundown Tuesday, Feb. 9.
This is a developing story, check abq.news for updates.