,
In a far-reaching action against accounts that promote violence, Twitter has banned the New Mexico-based pro-Trump group Cowboys For Trump. The account showed a suspended status on Saturday.
The group's Facebook page, however, remains open and the group's leader, Otero County Commissioner Couy Griffin, has posted numerous videos there sanctioning last week's actions and calling for a new rally and violence against national political leaders.
Griffin has been one of Trump's strongest supporters who has used social media to troll Democrats and call for violent actions to stop the inauguration of President-elect Biden.
Griffin was a part of the group that stormed past Capitol Police into secure areas at the US Capitol Building this week according to a video Griffin posted himself on the group's Facebook page.
The Paper., an independent news outlet based in Albuquerque, was the first to report on Griffin's next video where he called for a new rally to "plant our flag on the desks" of House Speaker Nancy Pelosi, incoming Democratic Majority Leader Chuck Schumer and President Trump, "if we have to."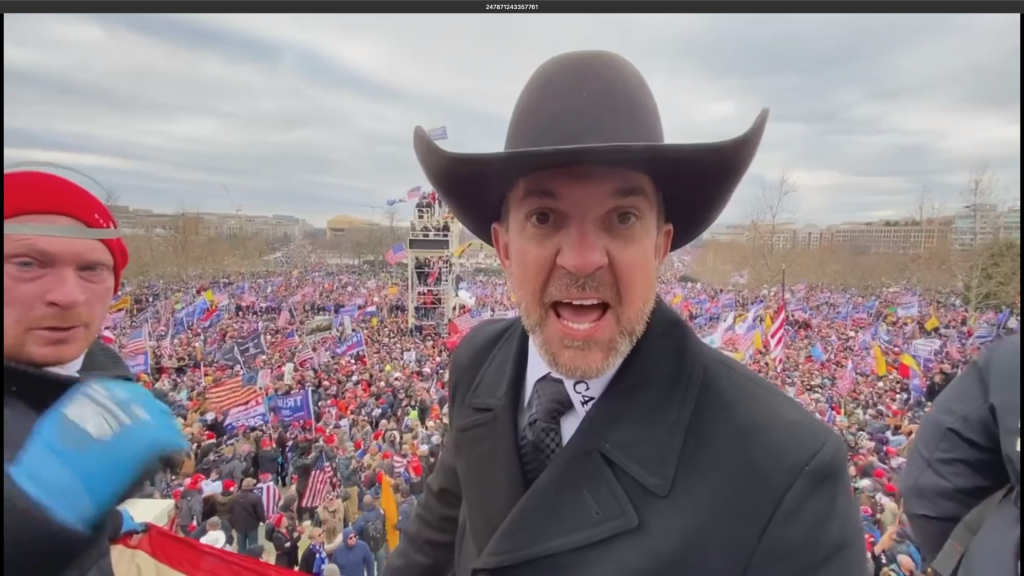 By Sunday morning, that story had been viewed more than 96,000 times and the story had been reported by dozens of other news outlets. The FBI confirmed to KOB news that it had been contacted about the video, but it declined to comment about active investigations.
By Friday, Twitter announced that it was permanently suspending President Trump's Twitter account "due to the risk of further incitement of violence."
That same day, Griffin was driving cross-country and posting videos along the way on Facebook. His Cowboys for Trump Twitter account was also tagged in multiple posts commending "patriots" for their actions in Washington.
In one video posted to Facebook Friday, Griffin again calls for a new rally to stop the inauguration of Biden and Harris. "Let us consider and pray about a possible great event on January 20th. I think that it's time that patriots once again stand up strong once again for patriotism and embrace our second amendment," Griffin says while driving across Oklahoma. He warns that if inaugurated Vice President-elect Kamala Harris will run the military. Harris, the first woman of color elected to a Constitutional position, has drawn particular ire from mostly white pro-Trump organizers trying to overturn the election.
Griffin ends by calling the armed insurrection and assault against the Capitol a victory and he says God blessed it. "We were the only ones who felt the momentum and the peace and the momentum that day… all day I watched this, and I didn't see one person even fall to their knees. It was a time that was totally protected and blessed by God. God gave us the victory."
Support independent journalism.
The Paper. provides reader-supported, independent news for New Mexico. 100% of reader donations go to the independent journalists covering stories like this for The Paper. Help us follow this story and cover more like it. Become a supporter today. >>$10. >>$25. >>$50. >>$100.
As of Sunday morning, the group's Facebook page was still active and it still hosted the videos where Griffin calls for new rallies to overthrow the government.